Haven: A bottom-to-top transformation
Sally A. Downey, For The Inquirer
Interior designer Parisa Abdollahi has spent the last 14 months renovating her expansive Tudor in Rydal, with several projects still to complete.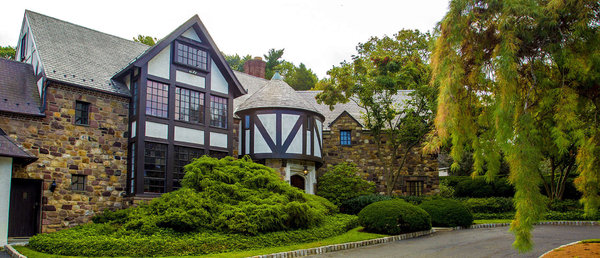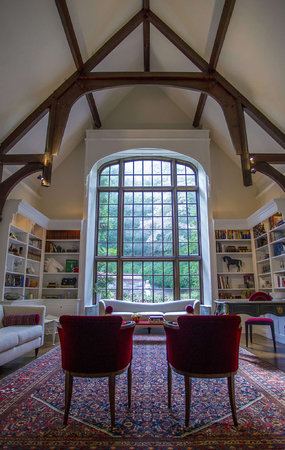 One guest room is bare except for a beautiful Persian rug.
"If you enter a room with a rug," she says, "you have a place to sit down. A rug warms the room and gives it personality."
Abdollahi, descended from a tribe of fine-rug makers in what is now Iran, owns Parisa Rugs & Décor in the Marketplace Design Center in Center City. When she decorates a room, she says, "I start with the rug."
In their new home, she and husband Tahamtan "Tahi" Ahmadi named one of the formal spaces "the cathedral room" because of its buttressed ceiling and arched window. Cream walls and upholstered furniture set off a large blue, red, and cream Persian rug. A red coffee table adds fun, Abdollahi says.
In the piano room, an abstract print by East Falls artist Alfred Ortega picks up the colors in yet another Persian rug.
In the kitchen Abdollahi designed, red knobs on the stainless-steel Wolf range match the crimson in the runner spread across the oak floor.
"Tahi bought all the appliances," she says. Both of them enjoy cooking.
A handsome Persian rug even adorns the children's second-floor playroom. "It's indestructible," insists Abdollahi. She and Ahmadi, an oncologist, have a daughter, Delara, 10, and a son, Kian, 7.
Before they could roll out their collection of rugs, Abdollahi and Ahmadi had important prep work to do.
The 6,200-square-foot house has two powder rooms and seven full bathrooms, including two in the pool house. The couple replaced the fixtures in one powder room and toilets, faucets, and showerheads in all the others. They also stripped "floor-to-ceiling" floral-pattern wallpaper throughout.
The house, built in 1972, had a moisture problem, resolved by installing sump pumps and roof gutters and repaving the flagstone patio. Two hundred roof shingles were replaced, Ahmadi says, and he had wireless sound, heating, and alarm systems installed.
The couple, who previously lived in University City, wanted a larger place to entertain and raise their family. Big selling points for this house were its swimming pool and 2 1/2 acres of landscaping, featuring a maze of dwarf English boxwoods.
The elaborate maze is guarded by copies of two ancient terracotta warriors found buried in China. Nearby, a flower bed is adorned by a stone sculpture of a woman dressed in classical garb.
Abdollahi says the children enjoy exploring the maze, and the family hosted an Easter egg hunt there. At adult parties, guests wander through the maze, drinks in hand.
The Tudor architecture of the house was appealing, Ahmadi says: The first time he entered the dramatic foyer, with its curved walls, vaulted ceiling, and curved filigreed wrought-iron staircase, he was sold. (His wife designed curved settees for the space.)
Nine plates on the wall - "I rebel against symmetry," Abdollahi says - depict wide-eyed women.
The plates, by Italian artist Piero Fornasetti, were a 40th-birthday gift from her husband. Ahmadi, 43, is of German and Iranian descent (he took his Iranian mother's name). He grew up in Germany. She grew up in Iran and Switzerland. They met in Boston, where he was studying and she was visiting a friend.
The foyer, the cathedral room, the piano room, and a room where a bar will be installed in the future offer "amazing public space," Ahmadi says. But the family spends most of the time in the eat-in kitchen and the adjacent family room, where "it's very livable, even cozy."
Abdollahi shops auctions, consignment stores, and art galleries for items for the home. Some of her own abstract artwork hangs on the wall, as well, as does framed art by her children.
Recently, following family tradition, she began designing a line of rugs. For the dining room, she plans to create a modern rug, to break up the traditional Persian rug décor.
"We saw potential in the house," Ahmadi says. "We wanted to bring it back to life and into the 21st century."

Source